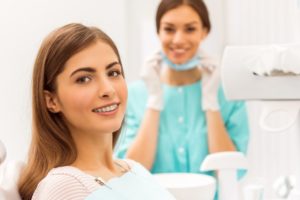 When your child was little, you knew how important it was to protect their precious teeth against tooth decay and gum disease. Prone to cavity formation, you were diligent about brushing and flossing to keep their oral health in the best of shape. Now that your child is a teenager, you've found that their schedules often keep them too busy to maintain regular dental visits. Instead of brushing them off in hopes that nothing bad happens, find out why a dentist for teens in Casper believes regular appointments are a necessity at this age.
What Dental Concerns Can Develop During Teen Years?
Children aren't the only ones who need proper dental care. In fact, everyone from babies to the elderly should receive regular dental checkups and cleanings twice a year. Apart from avoiding tooth decay and gum disease, there are other issues that can develop at different stages of life that should be monitored by a dental professional.
During the teenage years, most adult teeth are already in place, but the following dental concerns can quickly develop and lead to worsening problems if not addressed in a timely manner:
Braces
Wisdom Teeth
Smoking
Oral Piercings
Drug-Related Problems
Eating Disorders
How Can a Dentist Help?
Much of your teenager's oral health is dependent on how well they take care of their teeth and gums (oral hygiene), their diet (too much sugar versus a well-balanced, nutrient-rich diet), and lifestyle habits.
While braces and wisdom teeth removal are common "rites of passage" for most teenagers, braces can help improve bite alignment issues and excessive wear and tear on teeth. Wisdom teeth removal is often necessary because of either a shifting of the regular teeth or impacted molars that are causing pain and discomfort. Both types of treatment can be easily provided by a dentist for teens, who will ensure their teeth remain healthy and develop appropriately after treatment is complete.
Your teen's dentist can also be your ally should you find that your rebellious teenager is involved in smoking or drugs. Depending on the individual vice, your teen can face possible rotting teeth that eventually fall out or must be extracted as well as a host of serious health conditions that can have devastating consequences. While it might take some additional help from outside resources, a dentist can work to keep decay and disease as far away as possible while offering insight into ways your teen can quit and get help.
You'll be surprised to learn that a dentist can also assist should your teen have an oral piercing (i.e. tongue ring), helping to keep the area clean and reduce the chances of infection. While these may look trendy, the truth is a tongue ring can cause lead to serious swelling that closes off the airway. The jewelry can also break off and cause choking or a tooth to become cracked, which would, in turn, require cosmetic or restorative oral surgery to fix.
If you notice that your teen is experiencing none of the above-mentioned items but instead, is suffering from weight loss and bleeding gums, it may be that they have an eating disorder. Whether it is anorexia or bulimia, lack of proper nutrition can have devastating effects on their teeth and gums (i.e. thinning of tooth enamel, discoloration, cracked, chipped teeth). Apart from their dentist, it will be important that you help them to seek counseling in an effort to address the issue.
Teenagers have a lot to think about these days, and oftentimes, their oral health sits on the backburner. As a parent, take the steps necessary to stay on top of your teen's lifestyle habits and regular routines. Whether they battle any of the dental problems listed above or not, making sure they keep their regular dental appointments can make a big difference in the life of their smile.
About the Author
Dr. Roy Paulson is a board-certified pediatric dentist and has been practicing for more than 37 years. He graduated from Northeast Louisiana State University, earning his undergraduate degree. He then went on to receive his Doctor of Dental Surgery at Louisiana State University. Dr. Paulson and the team at Casper Children's Dental Clinic understand it can be difficult getting your busy teen to commit to attending a dentist appointment, but these visits are crucial to their growth and development. From braces to wisdom teeth, there are many possible problems that can develop during the teenage years. Find out more about how we can help you by visiting our website or calling (307) 266-1997.