Guided Growth & Esthetics
for Casper, WY Kids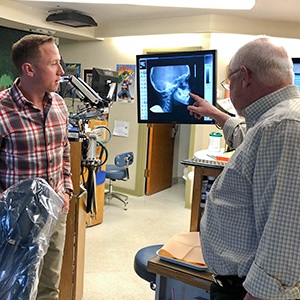 Julia Roberts, Cameron Diaz, and Tiger Woods are all notable celebrities with big, beautiful smiles. A radiant smile seems to light up a room and has even been proven to lead to greater future career success. While many people are simply blessed with good genetics, most of us are not so lucky. Many variables can influence the development of your child's teeth and face, and some of these can be shaped while your child is growing in order to create his/her biggest, most beautiful smile. We offer guided growth and esthetics for Casper, WY kids.
Facial harmony is greatly influenced by your child's existing occlusion (bite), jaw size (shape), and tooth size/position. The position of our teeth in our mouths has a direct effect on the bony architecture, and thus, the soft tissue of our face (i.e. lips, cheeks, chin, and jaw structure). Just ask any adult about the change in fullness of their face after they've had a permanent tooth extracted.
The Paulsons strive to provide their patients with the greatest potential for a long-lasting beautiful, functional smile. They are trained in pediatric growth and the management of the eruption of your child's teeth. As your child's permanent teeth begin to come in (around 6-7 years), Dr. Paulson will discuss strategies for tooth alignment, symmetry, and bite correction. Often times, the cost of orthodontics can be avoided entirely by simple procedures that guide the permanent teeth in straight, maintain symmetry, and utilize the "primate" and "E" spaces. Please refer to the research article below for a more detailed look into some of the theories and procedures the Paulsons utilize to help your child's teeth come in straight teeth.
Learn About Enamel Reduction Procedures
Due to copyright laws, we can't post a picture, but google "Tom Cruise AND smile midline." Take a look at how far the midline of his upper teeth is off with the midline of his lower teeth. They don't match up! This is a great example of orthodontic problems that can be avoided by proper monitoring and management of the eruption of your child's teeth.
Julia Roberts's good-looking wide smile is due to her nice, broad dental arch that can accommodate Julia's nice, big teeth. The Paulsons are trained and experienced in the use of expansion appliances that can help the upper and lower arches grow. When permanent teeth erupt into alignment and in a nice wide arch, they are going to want to stay there. Also, the expansion of the dental arches can often allow for greater growth in the lower jaw and chin leading to an enhanced profile and lower lip/chin fullness. Please refer to articles below for a more in-depth look into the theories and methods the Paulsons utilize to help grow your child's smile.
Also, please ask how we can coordinate our growth and development strategies with comprehensive orthodontics in the adult dentition to truly optimize your esthetic outcome.