Pediatric Interceptive Orthodontics
in Casper, WY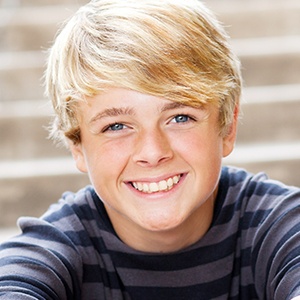 The Paulsons are extensively trained in the growth and development of your child's face, teeth, and developing bite. Many children have common orthodontic problems that can cause facial asymmetry, excessive wear and/or crowding of the permanent teeth, trouble chewing foods, esthetic concerns, and TMJ problems. Often times, these orthodontic problems are due to common habits such as thumb-sucking and pacifier-use; but sometimes, they arise from an inadequacy in your child's growth. When this is the case, peciatric interceptive orthodontics in Casper, WY may be the best option.
Our goal at CCDC is to treat the cause of the orthodontic problem. Many bite irregularities and orthodontic problems are a result of irregularities in the size of one or both jaws. As your child's body gets bigger, the growth centers in his/her palate can be encouraged to grow with the use of some incredible appliances. Appliance therapy usually takes about 6-8 months, and often, braces can be avoided entirely. By correcting the abnormality in your child's dental arch size early, we are harmonizing the face and essentially freeing the upper and lower jaws to grow the way they were intended.
Often times, the Paulsons will utilize interceptive orthodontic appliances in concert with future comprehensive orthodontic treatment to ensure the most esthetic facial proportions, lip size, smile width, and bite stability.
Thumb habits are common in infants and toddlers, but habit cessation is recommended by the age of 3. At CCDC, we understand that thumb habits often persist past that age and will coach you and your child using cessation methods that focus on positive reinforcement. If a thumb habit lasts past the age of 5 and begins to affect the shape of your child's palate and angulation of his/her permanent teeth, appliance therapy can be utilized for habit correction.