Kids Oral Hygiene & Health – Casper, WY
A Healthy Smile Starts at Home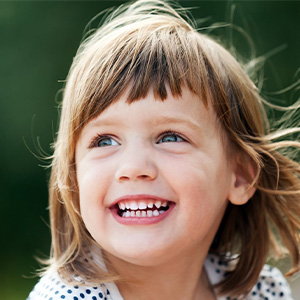 When it comes to keeping your child's smile healthy and happy, maintaining excellent oral health begins at home. By putting together a routine at home for your child, you can prevent them from experiencing a variety of dental problems, including cavities and gingivitis. Here are some of the things you should be taking into consideration regarding your child's oral health.
Why Home Hygiene Habits Are Important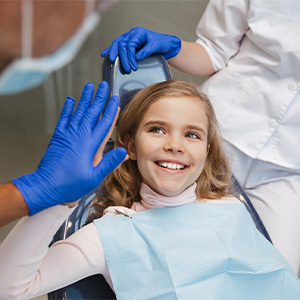 Did you know that cavities, also known as tooth decay, is the most common chronic disease of children in the United States according to the Centers for Disease Control and Prevention? When left untreated, cavities can cause discomfort and even lead to infection, causing a variety of further issues. By maintaining home hygiene habits, you can significantly reduce your child's risk of developing cavities and other oral health issues.
Routine Dental Checkups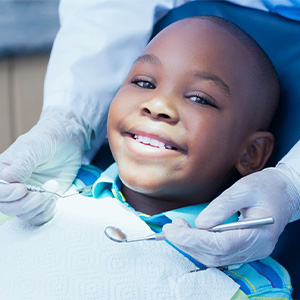 When your child attends their routine dental checkups every six months, their dentist checks for existing issues so they can be addressed. If they do find something, a treatment plan can be customized just for them to restore the health of their smile. This can help your family to save time and money in the future. Their dental team may also give you pointers and bring attention to problem areas so they can be given special attention at home. If you have any questions regarding your child's oral health or how to implement the best at-home hygiene routine, this is the perfect time to ask!
Brushing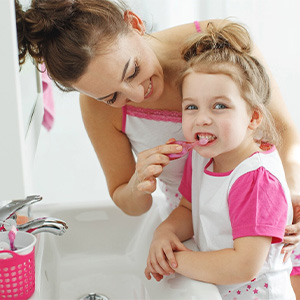 If your child is younger than 3, you should help them clean their smile with a soft-bristled toothbrush. Once they have reached the age of 3, they are likely ready to brush on their own with your supervision. When your child is brushing their teeth, the brush should be moved in small circles to reach food particles that may be under the gumline. They should hold the toothbrush at an angle and brush both slowly and carefully. Remind them to brush their tongue and the roof of their mouth before they rinse. This entire process should take approximately two minutes.
Toothpaste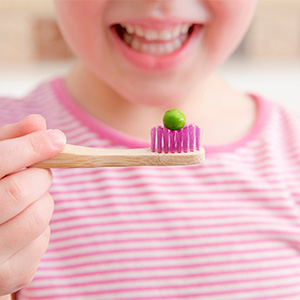 Fluoridated toothpaste is an excellent tool to prevent cavities, but ingestion of too much fluoride in children can cause tooth discoloration and other problems in the future. For children who are under the age of three, use a toothbrush and a smear of fluoridated toothpaste no larger than a grain of rice. Once your child turns three, you should continue to brush your child's tooth with about a pea-sized amount of toothpaste. Once they reach the age of six or seven, this is a good time for them to brush their teeth under your supervision.
Flossing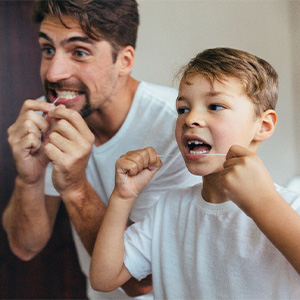 Flossing is important to clean the areas between the teeth and beneath the gum line that a toothbrush can't quite reach. Your child should start by wrapping the end of the floss around their middle fingers and guiding the floss gently between the teeth all the way down to the gum line. After each tooth, they should unwrap the clean floss from around their fingers as they go. The best time to floss is right before bed so they can end their day with a fresh smile.