Phase 1 Orthodontics – Casper, WY
Give Your Child a Lasting, Healthy Smile
When it comes to orthodontics, braces during the pre-teen and early teen years often come to mind, but did you know your child can benefit from treatment long before then? Casper Children's Dental Clinic provides pediatric orthodontics in Marquette. We strive to provide all the services your family needs under one roof for lasting healthy, beautiful smiles. Our team provides Phase 1 Orthodontics in Casper, WY to quickly address alignment and bite concerns to lessen the need for a lengthy or invasive treatment as your child grows.
Importance of Primary Teeth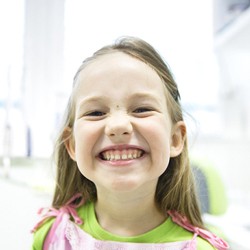 Although your child's baby teeth are only in place for a few short years, they are invaluable to your child's oral health and development. They allow them to learn how to chew and speak correctly while also acting as placeholders for their permanent teeth.
Besides the health of their baby teeth, their positioning is equally important. If the baby teeth are out of alignment or create an improper bite, it can impact the positioning of their adult teeth. Correcting issues early on with Phase 1 Orthodontics in Marquette allows us to create a successful foundation for your child's beautiful smile.
Why Does My Child Need to See an Orthodontist?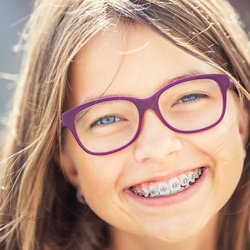 The American Association of Orthodontists recommends children have their first orthodontic consultation around the age of 7. Although this may seem early, it allows us to monitor the development of your child's teeth and bite. At this stage, it gives us the opportunity to identify current alignment issues that affect the baby teeth and jaw. It also allows us to detect complications that may arise in the future, like overcrowding concerns. By doing so, we can correct the problems to create the foundation your child needs for a healthy, functional smile. As your child reaches their teen years, the length of time they need braces will decrease. In some cases, we can even prevent the need for braces altogether.
How Does Phase 1 Orthodontics Work?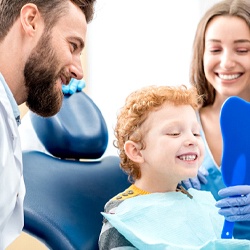 Phase 1 Orthodontics corrects issues with the baby teeth to guide the adult ones to erupt in their ideal positions. This also improves the growth of their jaw to ensure they develop the functions necessary for eating, speaking, and even breathing.
During your child's initial consultation, we conduct a brief examination and take diagnostic images to assess their teeth, even those that have yet to erupt. Depending on the results of the examination, we create a customized treatment plan catering to your child's individual needs.
Schedule a Consultation Today!
If your child has not had an orthodontic consultation, do not wait until it is too late. Contact our dental office today to schedule your child's consultation.