Dentistry for Infants – Casper, WY
Starting Smiles On the Right Path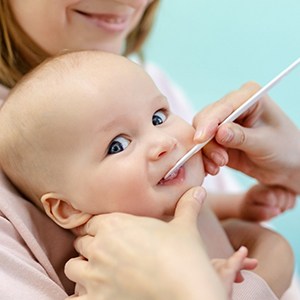 At Casper Children's Dental Clinic, we care about your little one's oral health. Although your infant may be looking back at you with a gummy smile right now, pretty soon you'll begin to see that first tooth erupt. When it does, we'll be here ready to welcome you to our office! Drs. Roy and Ryne Paulson are pediatric dentists who offer children's dentistry in Casper. Providing comprehensive services, we believe in starting the oral health journey early on so that good dental habits are formed at a young age. If you have questions or would like to schedule an appointment, call us today.
Oral Health Risk Assessment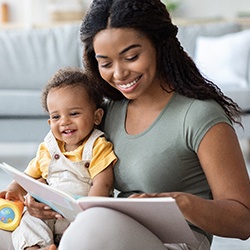 As soon as your child's first tooth erupts, or before they reach the age of one, you should plan to schedule their first dental appointment. During this visit, we will focus more on getting to know you and your little one as well as making them more aware and comfortable with their surroundings. Our pediatric dentist will perform a quick exam before gently cleaning their gums and teeth. This process will not require much time, but you can expect us to go over ways you can maintain your child's oral health while at home. From cleaning with a damp washcloth after every meal to using a soft-bristled toothbrush (or finger brush) to clean any teeth that have erupted, we'll go over the dos and don'ts concerning your child's smile.
Teething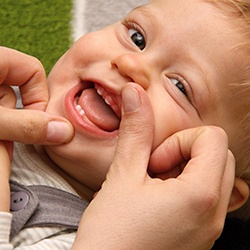 Every child endures the process of teething. Although some children handle it better than others, erupting teeth still can cause much discomfort. As these teeth push through the gumline, you'll likely find your child crying and gnawing on anything in sight. This is why it's helpful to have safe and appropriate teething toys nearby. These can include toy-like teethers as well as those you can place in the refrigerator to help cool their sore gums. Also, a cold washcloth can be equally as helpful. Our team will walk you through the process and provide tips to make these months more manageable.
Silver Diamine Fluoride (SDF)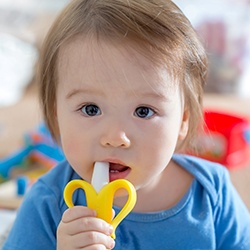 When a child already has a cavity but cannot receive a tooth-colored filling yet, Drs. Roy and Ryne Paulson can recommend silver diamine fluoride (SDF). This liquid substance treats current cavities by eliminating the bad oral bacteria and strengthening existing tooth enamel. Not only is it a conservative approach, but it is highly effective in stopping decay in its tracks and preventing it from spreading further into the tooth's layers.
Non-Nutritive Habits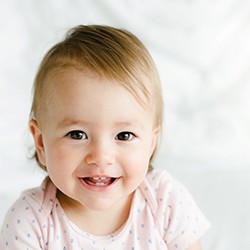 Babies who suck their thumb or use a pacifier don't have much to worry about with regard to how these non-nutritive habits affect their oral health. However, it's vital that we monitor the situation so that problems don't develop over time. As your child grows older, the continuation of these habits can spell trouble for their oral and facial development. To avoid these problems, we can provide tips and strategies to help you break these habits before they become a serious issue in the future.
Lip & Tongue Tie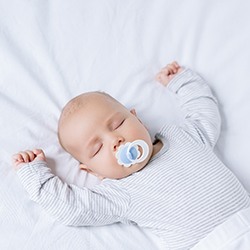 If your baby is struggling to nurse, and you're beginning to feel depressed because of the difficulties both you and your child are experiencing, you're not alone. Your little one may have a lip or tongue tie that needs to be treated. When the frenulum (the connective tissue beneath the tongue or behind the upper lip) is restricted, it can cause significant problems when it comes to oral function. Using a soft tissue laser, we can quickly and easily release these bands of tissue to allow for greater lip and tongue movement, while creating positive development along the way.
Fluoride Treatment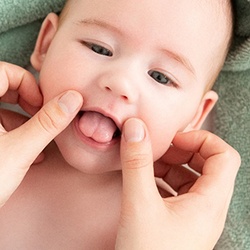 Children are often prone to developing tooth decay at an early age. This is why dentistry for infants is so important. To get ahead of the potential issues caused by novice oral hygiene skills, unhealthy eating habits, and more, we can apply topical fluoride during your little one's dental checkup and cleaning appointments. Fluoride is a natural mineral that is known for its unique capabilities in combatting tooth decay and strengthening enamel. This quick and simple process is painless and takes little time at all, allowing your child's teeth to remain healthy and strong in between appointments.