In-Office Sedation Dentistry
for Casper, WY Kids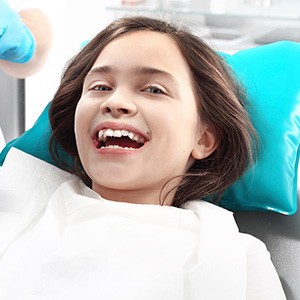 The ability to ensure your child has the most positive dental experience possible means having a variety of ways to help your child feel comfortable during dental treatment, including in-office sedation dentistry for Casper, WY kids. The Paulsons are specially trained in the administration of oral sedatives to assist fearful/nervous, young patients with the comfortable completion of their in-office dental treatment. In-office sedation provides Dr. Paulson with the ability to complete a moderate amount of dental work on a fearful (possibly non-cooperative) patient while he/she is sedated comfortably.
The goal of our sedation strategy is mild sedation, where the patient is awake but comfortable and care-free. An added benefit to the types of sedatives we use are their ability to act like an amnesic. Often times, your child will remember having some dental work done but won't remember specifics about the procedure hurting or being particularly difficult. Our goal is never for your child to fall asleep for dental treatment, as this could be dangerous.
The safety of your child is our number one goal, so the Paulsons carefully dose the amount of sedative required for each patient. We have over 40 years of combined experience sedating pediatric patients. Both doctors have advanced training in airway management, drug reversal, advanced pediatric life support, and emergency management (PALS and BLS certified).
Our oral sedatives are administered in-office. We have a comfortable sedation room where the patient and his/her family can relax and watch movies, read books, or draw on the chalkboard while the sedative takes effects.
Read Our Oral Sedation Handbook
Nitrous Oxide Sedation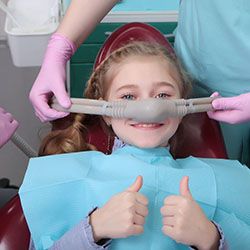 Is your little one anxious about their upcoming dentist appointment? Don't worry – it's completely normal for children to feel nervous! At Casper Children's Dental Clinic, we offer nitrous oxide sedation for patients of all ages with mild feelings of anxiety concerning dental treatment. Within minutes, your child's worries will fade away. If you'd like to learn more about this method or find out if it's right for your little one, continue reading or give our team a call today.
Who Is a Good Candidate for Nitrous Oxide?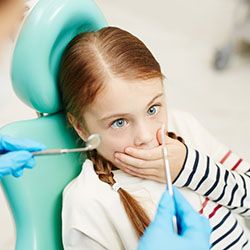 You'll be happy to know that nitrous oxide, also known as laughing gas, is safe for all ages and is a great option for patients who suffer from dental anxiety. Although feeling anxious is an indication that sedation is right for you, it's not the only one. We may recommend nitrous oxide if your child:
Is uncomfortable around needles
Cannot sit still in the treatment chair
Has a strong gag reflex
Is not easily numbed with local anesthesia
It's worth noting that your little one may not be a viable candidate for this option if they have a sinus infection, respiratory disease, or are taking certain medications. But don't worry – there are other methods of sedation you can explore!
How Does Nitrous Oxide Work?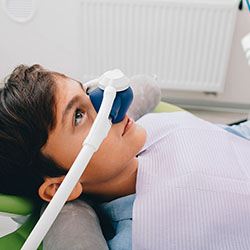 Nitrous oxide (laughing gas) can help children relax with or without the use of oral sedation. For this, all a child has to do is inhale the colorless, odorless gas through a small nasal mask to start feeling completely calm and happy in the dental chair. The mask will stay on the entire time, and the gas' effects will wear off almost as soon as we take it off, enabling them to go straight back to their normal routine.
Aftercare for Nitrous Oxide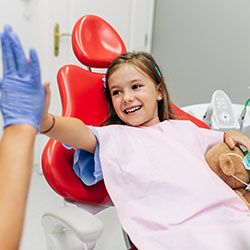 Even though nitrous oxide wears off rather quickly, we'll ask your child to stay in the office for a few minutes to monitor their vitals. We want to make sure they feel back to their normal selves before they leave the office! One significant advantage of laughing gas is that it will not prevent your little one from returning to normal activities right away. That means they can go back to school following their appointment if needed. If your child happens to experience any sort of complications, don't hesitate to contact us right away for personal assistance.
General Anesthesia Dentistry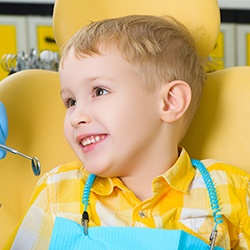 As a pediatric dental clinic, CCDC specializes in the comprehensive treatment of children under general anesthesia. Often times, children with special needs and very young children (2-6 years) require extensive dental treatment that would be taxing for the patient and parents if completed using standard procedures. Treatment performed while your child is comfortably sleeping creates less potential for fear of the dentist moving forward, a better treatment outcome, and the successful completion of ALL of your child's dental needs in one visit.
The Paulsons are credentialed at Casper Surgical Center and Wyoming Medical Center where a licensed anesthesiologist and full surgical team compassionately care for your child's pre-op, post-op, and anesthesia needs. The highly trained staff at Wyoming's second largest surgical center ensures your child's overall health and well-being while Dr. Paulson and a team of assistants provide the dental care in a timely manner. Dental surgeries are outpatient procedures and usually only require a day or two of healing time. These procedures are a good way to avoid several appointments of shots in the mouth, a crying/screaming kid, and years of dental fear/anxiety that could prevent a child from seeking dental care in the future.
Pre/Post-Op Instructions
Here are some instructions for both before and after your child receives sedation dentistry:
Before the Visit
Please make sure that your child goes to the bathroom immediately prior to arriving at the dental office.
Your child should not have solid food for at least 6 hours prior to their sedation appointment, and only clear liquids for up to 4 hours before the appointment.
The child's parent or legal guardian must remain at the dental office during the complete procedure.
Please watch your child closely while the medication is taking effect. Hold them in your lap or keep them close to you. Do not let them run around.
Your child will act drowsy and may become slightly excited at first.
After the Visit
Your child will be drowsy and will need to be monitored very closely. Keep your child away from areas of potential harm.
If your child wants to sleep, place them on their side with their chin up. Wake your child every hour and encourage them to have something to drink in order to prevent dehydration. At first, it is best to give your child sips of clear liquids to prevent nausea. The first meal should be light and easily digestible.
If your child vomits, help them bend over and turn their head to the side to ensure that they do not inhale the vomit.
Because we'll use local anesthetic to numb your child's mouth during the procedure, your child may have a tendency to bite or chew their lips, cheeks, and/or tongue and rub and scratch their face after treatment. Please observe your child carefully to prevent any injury to these areas.
Please call the dental office with any questions or concerns you might have.
Sedation Dentistry for Kids FAQs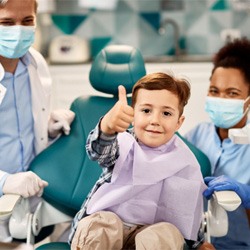 As a sedation dentist in Casper, WY, Dr. Paulson and our team want every patient to feel comfortable and relaxed in our office. If you believe your little one would benefit from sedation, let us know, and we will discuss available options. In the meantime, we invite you to browse through the following list of FAQs. You may find information that helps you determine whether you believe sedation would be a good fit for your child.
Is Sedation Dentistry Safe for Kids?
Dr. Paulson is highly focused on keeping patients safe. To that end, he thoroughly screens children for any contraindications for sedation before he moves forward with treatment. While a patient is under sedation, he and our team monitor them closely for signs of any adverse reactions.
Generally speaking, sedation is very safe for kids. Nitrous oxide, in particular, is known for being a low-risk way to help even the youngest patients stay calm and relaxed. The most common side effect is nausea, which typically wears off as the sedative leaves the patient's body.
Will My Child Remember Anything with Dental Sedation?
With nitrous oxide, it is common for patients to remember their procedure. However, with more powerful forms of sedation, a degree of amnesia may occur. With oral conscious sedation, for example, a child may remember that they visited the dentist, but they may not recall the sights, sounds, smells, and sensations that they experienced during treatment. General anesthesia, the most powerful form of sedation, causes unconsciousness, so patients do not recall anything about their procedure after it is over.
How Much Does Sedation Dentistry Cost?
The cost of sedation depends on which type is administered. The price of nitrous oxide and oral conscious sedation tends to be relatively low, so they are popular options for families who are watching their budget. General anesthesia is much more complex, so it has a higher cost.
Insurance covers sedation dentistry in some cases. Our team will help you understand your benefits and file claims on your behalf.
Will My Child Feel Any Pain with Dental Sedation?
General anesthesia causes complete unconsciousness, so patients do not feel any pain at all while under its influence. Milder forms of sedation allow patients to remain alert enough to experience sensations. However, sedatives lower the body's pain response. If your child feels anything during their procedure, they are more likely to notice pressure than outright pain. Often, conscious sedation is paired with local anesthesia so patients are as comfortable as possible.