First Dental Appointment – Casper, WY
First Step Toward a Lifetime of Healthy Smiles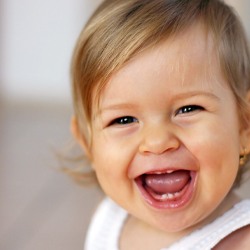 Your child's smile can warm your heart and give you memories that you'll treasure for the rest of your life. That precious little grin is also an integral part of your child's well-being. Beginning your little one's oral care regimen early on can set them up for a lifetime of sound oral health. Let's discuss the importance of bringing your child to a pediatric dentist in Casper and what you can expect during this milestone appointment.
Why Visit a Pediatric Dentist?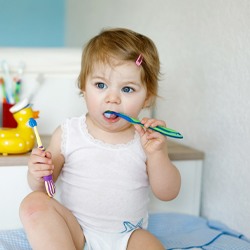 Because dentistry is such a new experience for your little one, and because children are so sensitive to foreign environments, you should bring them to a dental professional who has the experience and gentle touch needed to make children feel at home. Here at Casper Children's Dental Clinic, our doctors and staff have the energy, patience, and positive attitude that puts kids at ease and can help them adopt a positive view of dentistry.
Another benefit of visiting a dentist who specializes in caring for children is that pediatric oral health professionals have undergone extensive training that equips them to care for kids' unique needs. For example, our doctors may be able to spot subtle signs of developmental issues with the teeth and jaw before a general dentist could.
Timing the First Dental Appointment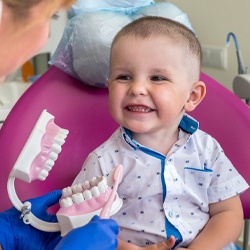 Children should attend have their first dental appointment in Casper by the time they're one year old, or around the time when their first tooth erupts. But what if your child already has a mouth full of teeth and they haven't yet visited a dentist? It's not too late! Schedule an appointment as soon as you can. Regardless of the child's age, our team will provide them with gentle, supportive care. If the child is old enough to understand the basics of how to care for their own teeth, we'll use the appointment as an opportunity to provide them with some valuable education on things like brushing, flossing, and the importance of avoiding sugar.
What to Expect at Your Child's First Appointment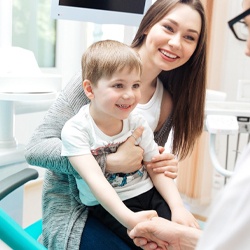 When you and your child visit our team for their first dental appointment, you can expect a warm welcome into our dental office. Then, throughout the appointment, we will:
Clean the child's teeth
Take any necessary X-rays to check for potential developmental problems
Give you some valuable advice on how to care for your child's smile at home
Discuss your child's future oral healthcare needs with you
Because we're sensitive to the needs of children, we'll never rush through the appointment. We'll strive to get to know your child and their unique needs. If your little one is squirmy or extremely young, we may ask that they sit on your lap for all or part of their appointment.
Has your child had their first dental visit in Casper yet? If not, contact our team today to schedule their initial visit to our clinic. We look forward to caring for your little one's smile and helping them establish the foundation for a lifetime of good oral health.