Restorative Pediatric Dentistry
for Casper, WY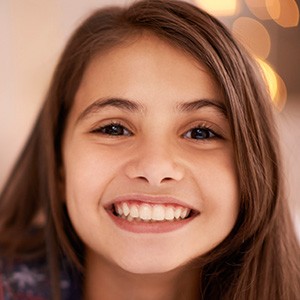 As parents, many of us have dealt with the unpleasant, seemingly unavoidable experience of cavities in your child's teeth. The truth is nearly half of all children in the US will get at least one cavity by the time they reach kindergarten. When it comes time to deal with tooth decay in children at a young age, it is not only important to have a kid-friendly dentist, but also one who is familiar with appropriate treatment strategies for each individual patient. The Paulsons take careful consideration of each patient's age, temperament, treatment needs, and parental preferences to develop a treatment plan that is most appropriate for that individual patient. Our goal is your child's optimal long-term oral health and creating the potential for a beautiful smile with custom restorative pediatric dentistry for Casper, WY children's dental patients.
Long-Lasting Dental Restorations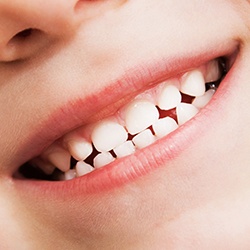 The primary goal of treating caries in baby teeth is long-term durability of the restoration. The Paulsons often recommend amalgam (metal) restorations in the primary molars because these types of restorations have proven to cause less sensitivity, are more comfortable, and have a higher success rate than white fillings.
Interim Therapeutic Restorations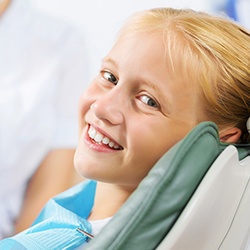 Sometimes very young children (1-4 years) can have a few small dental cavities that are a result of improper enamel formation or a nighttime bottle habit. Often times, these lesions are small enough to be restored in mom or dad's lap without the need for local anesthesia (which means no shots!). Dr. Paulson quickly removes the surface layer of the lesion and places a tooth-colored filling material that continually releases fluoride. These fillings often last until the tooth falls out, but mainly function to delay more significant dental treatment until an age where the child is more suited to cope with the discomfort.
Tooth-Colored (Composite) Fillings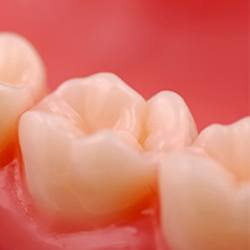 Casper Children's Dental Clinic routinely places esthetic tooth-colored fillings in our patients' "smiling" teeth and when desired in our patient's back teeth. Because of the proven higher success rate and durability of amalgam fillings over composite, the Paulsons often advise amalgam fillings for interproximal (in-between-the-teeth cavities) in the primary molars. We also understand many parents' concerns with metal fillings and will perform tooth-colored fillings when desired.
Tooth-colored fillings are often useful in a tooth that has a small cavity that does not require much tooth removal. A flowable composite can be bonded into these small preparations as a suitable restoration with minimal tooth removal
Stainless Steel Crowns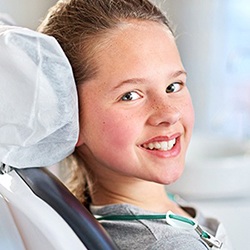 Stainless steel crowns (i.e. Iron Man teeth or Princess crowns) have never been the best-looking dental restorations, but they are certainly the most durable and useful in pediatric dentistry. Stainless steel crowns are required when a tooth has undergone extensive loss of tooth structure from tooth decay, and/or after a tooth has received a pulpotomy (i.e. baby tooth root canal). Stainless steel crowns are inferior to none as far as durability and longevity in the primary teeth. They are commonly used in high caries risk patients to prevent further tooth decay on a susceptible tooth. Also, small fillings in certain posterior teeth (esp. lower 1st molars) are not very durable and often require replacement prior to loss of the tooth. Often times in these cases, a stainless steel crown is a better long-term solution.
Tooth Extractions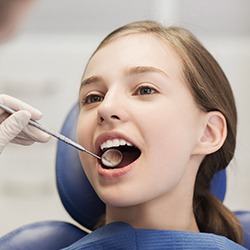 While we'll do everything we can to help your child maintain his/her teeth for as long as possible, sometimes, the best course of action is tooth removal. Teeth require extraction when they are badly broken down due to dental caries, are infected, and/or are preventing a permanent tooth from erupting into a normal alignment in the dental arch.
Dr. Paulson has unsurpassable experience removing primary teeth. He utilizes atraumatic extraction techniques and always ensures your child is comfortable using local anesthesia and nitrous oxide sedation. You can rest assured your child is in good hands during the unfortunate experience of having a tooth removed.
Space Maintainers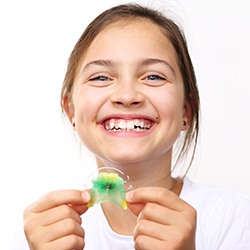 The early loss/extraction of a primary molar tooth may require the use of a space maintainer to prevent space loss in the dental arch. The 6-year molars are one of the first permanent teeth to erupt into the mouth behind the baby molars. As the molar comes into the mouth, it guides against the back of the second baby molar already present in the dental arch. This eruptive force will cause the posterior teeth on that side of the mouth to shift forward if the arch is not supported by its full complement of teeth. This loss of space can lead to dental crowding, loss of bite harmony, and/or impacted permanent teeth.