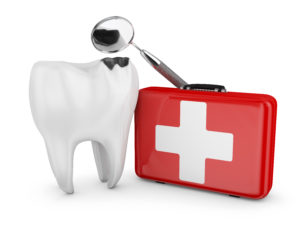 Dental emergencies always seem to come out of nowhere, especially for your kids. One minute they're playing outside with their neighborhood friends and the next your child is on the ground crying and screaming because their tooth got chipped somehow. As a parent, you want to make them feel better as soon as possible. According to your emergency dentist in Casper, that becomes much easier when you have a dental kit with all the supplies you need on hand.
When making your kit, make sure to include these essential items!
General Supplies for Dental Emergencies
The following items should be in your emergency dental kit at all times. Regardless of the emergency that's occurring, chances are you'll be able to make good use of them the moment your child is having a dental emergency. They include:
Medical-Grade Gloves – The last thing you want to do is spread germs from your hands into your child's mouth. To create an effective barrier, purchase either latex gloves or vinyl gloves if your child has an allergy to latex.
Cotton Balls and Gauze Pads – If a tooth is knocked out, there will be large amounts of bleeding at first. Use these to apply pressure to the area and stop bleeding. Be sure they are always kept clean.
Dental Wax – This is more ideal for family members wearing braces. If any of the brackets break or their archwire comes out and pokes their gums, wax can cover it temporarily. Dental wax can be found in any drugstore.
Floss – If your child has tooth pain, you can use floss to confirm no food is stuck and causing it.
Dental Mirror – These are useful for examining damaged areas of the mouth. You can buy mirrors with lights attached, or keep a small flashlight in the medical kit as well.
Small Airtight Container – This is perfect for keeping knocked-out tooth inside until you get to the dentist.
Orabase – When ulcers or canker sores ruin the day, Orabase provides pain relief. Follow the instructions on the bottle for best use.
Orajel – While Orabase is a paste, Orajel is a topical anesthetic designed to ease pain caused by soft tissue damage. It also relieves pain felt while teething.
Ice Pack – Ice packs are perfect for reducing swelling after an injury. They're also ideal for pain relief.
Ibuprofen – Painkillers are always important to keep in any emergency kit. However, aspirin should be avoided because it acts as an anticoagulant. This will make it more difficult for bleeding areas to clot properly. It can also cause a burning sensation when in direct contact with an oral wound.
With these essential items, you'll be perfectly equipped to handle any dental emergency. If you're experiencing a dental emergency, contact your pediatric dentist in Casper as soon as possible to schedule a same-day appointment!
About the Author
Dr. Roy E. Paulson has been a board-certified pediatric dentist for over 37 years and shows no signs of stopping. After earning his DDS degree from the Louisiana State University, he opened a practice in Casper. He also performs volunteer work for many children's dental programs, including the Give Kids a Smile program. To learn more about his practice, contact him through his website.