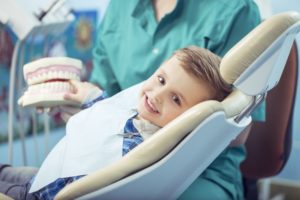 Many dental offices welcome children as patients, but that doesn't mean they all offer the same level of service and care. At Casper Children's Dental Clinic, we are committed to excelling in every aspect of our business, and we're dedicated to making you and your family comfortable from the moment you first contact us. Here are the top three reasons why you should consider choosing us as your children's dentist in Casper.
We're Bilingual
Clear communication is of vital importance in pediatric dental settings because parents should never feel that language barriers are stopping them from understanding their children's treatment. Also, going to the dentist is oftentimes intimidating for children, and it can be even more so if no one in the practice speaks the language of their heart.
We want to eliminate such problems, which is why we're proud to have a bilingual staff. Our staff is able to communicate effectively in both English and Spanish, making it unnecessary for children to do translating for their parents or vice versa.
We Love to Have Fun
We love taking care of children's smiles — and we love seeing those smiles in action. That's why our office is equipped with TVs playing the latest children's movies, video games, and silly mirrors. We even give prizes and balloons to kids after they finish their appointment.
To see photos of our fun offerings, we invite you to take an online tour of our office. Of course, you're always welcome to stop in and check things out for yourself.
We Have the Friendliest Staff in Town
No matter how good a pediatric dentist in Casper is at taking care of teeth, it's often the personalities within a dental practice that determine whether patients will come back again and again. That's why we work hard to keep smiles on our faces and kind words on our tongues.
We also like to goof off on occasion because kids and adults alike need a little silliness once in a while. Dr. Ryne Paulson, one of our dentists, even makes balloon art! In fact, his favorite part of his job is the challenge and humor of convincing kids to do something they don't want to do. He would much rather have his patients cracking up in laughter than falling apart in tears.
Of course, it's not all fun and games. We know how to be serious when necessary, and we always offer service with true compassion and gentleness.
Come Meet Us!
There is lots to love about Casper Children's Dental Clinic! We invite you and your little ones to come in and see for yourselves why our patients adore us. To schedule an appointment or learn more about our office, our policies, or anything else related to our practice, please contact us at 307-266-1997.
More About Our Doctors
Dr. Roy Paulson has been taking care of children's smiles for almost four decades. His son, Dr. Ryne Paulson, is proud to carry on the family legacy of helping kids enjoy healthy, happy smiles. They both have a true gift for working with young ones and enjoy what they do.