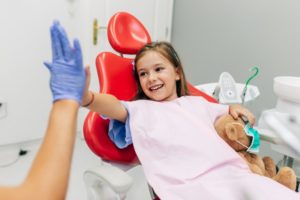 Do you know when your child's first dental visit should be? According to recent studies, American children start seeing their dentist at 2.6 years old, on average. However, the American Academy of Pediatric Dentistry recommends that a child should have their first visit by their first birthday! Beginning your son or daughter's routine dental checkups early in life plays a key role in protecting their beautiful smile and keeping their developing oral health on track. Here's what you need to know about your little one's first appointment with their Casper children's dentist.
The Importance of Your Child's First Visit
The AAPD reports that 62% of caretakers think that children under 12 months old aren't old enough or don't have enough teeth to warrant a trip to their dentist. However, taking your child to their first appointment early in life plays several important roles in their oral health development, like:
Protecting baby teeth: Even though they're not a permanent fixture in your little one's smile, healthy baby teeth are a key part of their long-term dental wellbeing. Primary teeth save space in the jawbone for permanent teeth and help guide them into position as they come in. Your Casper children's dentist can provide the special care these developing teeth need.
Teaching parents: A child's first dental appointment is also beneficial for their caregivers. Your dentist can offer guidance on how to keep your son or daughter's precious smile safe and cavity-free at home as well as answer any questions you may have.
Calming dental anxiety: If you wait to bring your little one to their dentist until they have a cavity or toothache, it's unlikely they will form positive memories about the experience. This could influence their perception of oral health care as they grow and cause them to develop dental anxiety. Seeing a dentist before problems arise allows them to make a good first impression and encourages your child to associate dental visits with positive experiences.
What to Expect at Your Child's First Appointment
Your son or daughter's first appointment will primarily focus on introducing them to all the new sights, sounds, and friendly faces of the dental office. They'll have the opportunity to sit in the examination chair as the dentist takes a look at their teeth, gums, jaw, and bite. If your child has a buildup of plaque or tartar, they may get a gentle cleaning as well. Unless your dentist notices a development issue, baby teeth typically don't need to be x-rayed. Your Casper children's dentist will also take the time to answer your questions and demonstrate proper brushing and flossing techniques.
Your child's first dental appointment is an important one, so don't wait until they develop a dental issue to take them! Taking care of your son or daughter's oral health early in life sets them up for years of happy, healthy smiles!
About the Practice
Casper Children's Dental Clinic is a family-run practice that strives to add an element of fun alongside excellent oral health care. Dr. Roy Paulson has served the growing smiles of Casper, WY for over 35 years, and his son Dr. Ryne Paulson is happy to carry on the proud tradition. The father and son team both have specialized training in caring for the unique needs of young smiles and creating an environment that cultivates confidence and comfort for children and parents alike. They would be thrilled to meet your little one for their first dental visit, so feel free to contact them via their website or at (307) 266-1997.