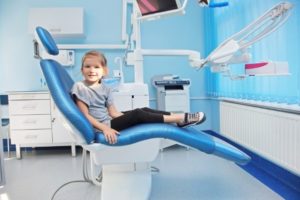 Has your children's dentist in Casper recently recommended your child receive general anesthesia for an upcoming procedure. It is natural to be concerned about the safety and necessity of general anesthesia. When administered by Casper Surgical Center's highly-trained anesthesiologists, there are few risks involved. There are times when it is in your child's best interest to ensure a comfortable and stress-free visit.

Does My Child Need General Anesthesia?
General anesthesia creates an induced loss of consciousness, allowing your child to sleep through their appointment. They will not be aware of any sights, sounds, smells, pain, or discomfort. After their procedure is complete, the medication is stopped, and they will wake quickly.
Your child is put to sleep using a gas that diffuses in and out of the bloodstream quickly. This gives the anesthesiologist the greatest level of control. While they are unconscious, oxygen is mixed with the anesthetic gas and your child's breathing is regulated. An IV is also used to keep your child hydrated and administer pain-relieving medications. Their vital signs will be monitored throughout the procedure to ensure their safety.
Typically, it is recommended for young children who need an invasive or time-consuming procedure, like rehabilitation of many teeth at one time. It can also benefit older children who have severe fears of the dentist or those who have special needs.
Prior to recommending the use of anesthesia, your dentist will put a great deal of consideration into their decision. They will discuss your child's medical history and factors that can influence their comfort during the procedure, such as their age. They will weigh the advantages and disadvantages to ensure they make the right choice for your child.
What Can I Expect?
Prior to the procedure, your dentist will discuss the entire process with you, including how to prepare your child. You are given strict instructions to follow for the days leading up to the visit, such as stopping certain medications and avoiding food and drink prior to your child's surgery.
When you take your child home, they will need to rest for the remainder of the day until the effects of the anesthesia completely wear off. It is not uncommon for them to feel nauseous or vomit. Usually, the side effects dissipate in a few hours, and your child can resume their normal diet the next day.
Is General Anesthesia Right for My Child?
Choosing general anesthesia for your child is a big decision. Your dentist will discuss the pros and cons to help you make the best choice for your child.
About Casper Children's Dental Clinic
Casper Children's Dental Clinic caters to the unique needs of young smiles. We are a pediatric and emergency dentist in Casper for high-quality dental care. We offer many advanced services to ensure the comfort of our patients, including general anesthesia. We are specially trained in treating children who have special needs and/or those who require Casper Surgical Center. If your child requires anesthesia during their appointment, contact our office today to learn more.