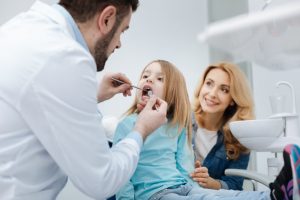 Like most things in parenting, taking care of your child's oral health doesn't come with a guidebook. That means that taking your little one to the dentist for the first time can be nerve-wracking for you both! Thankfully, there's no need to worry. Knowing what to expect during your child's first checkup can go a tremendously long way in making it a great, pleasant visit. Read on as we share everything you need to know about preparing for your child's first dental visit.
The Perfect Time for Their First Appointment
The American Dental Association recommends that children get their first dental checkup by their first birthday. While this may seem too early, it's important to remember that oral health issues like cavities can develop as soon as the baby teeth erupt. Starting routine dental checkups early in life will help spot and stop any problems as early as possible.
Timing is important when it comes to scheduling your child's first checkup as well. It's a good idea to bring your child in when they're in a good mood, such as after a nap or a snack. They'll be less likely to get upset if they're not tired and hungry!
What You Can Expect During Their Frist Checkup
A child's first dental visit serves mostly as an introduction to all the new sights, sounds, and friendly faces of the dental office. In most cases, their first checkup will include:
Meeting the dentist and dental team and getting to know them
A light, gentle cleaning of your child's teeth
A visual inspection of their teeth, gums, jaws, and mouth, as well as any needed X-rays
Discussing your child's current or future oral healthcare needs with you
Answering your questions and providing helpful advice about at-home smile care for your child
Tips for Preparing Your Child for Their First Visit
Before your child's appointment, there are several simple ways you can help prepare them to have a great visit, like:
Use a positive tone: Talk to your child about their upcoming appointment and what's going to happen, using a positive, upbeat tone the whole time.
Play pretend and practice: Have your child practice sitting back in a chair and opening their mouth while you count their teeth aloud with a toothbrush.
Watch videos and read books: Children's videos and books can help demystify their upcoming appointment and make it seem less scary with the help of some familiar cartoon characters.
There are plenty of ways you can help make your child's first dental visit more pleasant and smooth for you both. Making sure their first checkup goes well can help set them up for a lifetime of happy, healthy smiles.
About the Practice
For over 30 years, Dr. Roy Paulson and the staff at Casper Children's Dental Clinic have been providing personalized, gentle pediatric dentistry for the growing smiles of central Wyoming. Now with the help of his son Dr. Ryne Paulson, the father-and-son team use a combination of kid-approved amenities and the latest dental techniques to make every appointment as pleasant and effective as possible. They love to welcome new patients and their parents to their practice and show them how fun taking care of their smile can be! To schedule your child's first dental visit, they can be contacted online or at (307) 266-1997.