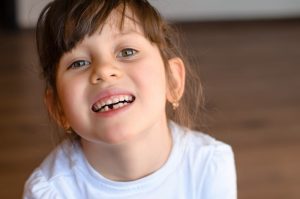 Just like for adults, the thought of losing a tooth for children can seem like a scary event. However, if you prepare them for it and educate them about why every child loses their temporary teeth, you can make this life event seem less daunting. As a parent, your natural instinct is to likely protect and comfort your child, but in this case, the best way to do this is to help them know what to expect. Read on to learn four ways you can help your child feel less scared about losing their temporary teeth.
Use Fun & Light Language to Describe What Will Happen
Children are incredibly smart and attentive, and they pick up on even the most subtle details when you speak, like your inflection, tone, and the language you use. When describing what will happen when one of their baby teeth becomes loose, it's best to avoid terms like "pain," "uncomfortable," "blood," and any other word that may be a red flag for your child and signal them to be scared. Instead, keep the conversation positive and fun by using phrases like "wiggle the tooth out."
Tell Them Tales About the Tooth Fairy
One fun tale that can actually get your child excited about losing their baby teeth is the tooth fairy. If they're afraid and anxious about losing a tooth, try buying them a picture book explaining this Medieval European story about what happens if they put their lost tooth under their pillow!
Be Sure to Explain the Why
Some children can be comforted simply knowing why their teeth fall out. If this is the case, at one of their checkups and cleanings, you can either have their children's dentist explain this or you can do it yourself at home. Let them know that it won't hurt, and that it will happen completely naturally. Some children get ideas from their classmates, like they'll accidentally swallow their tooth when it comes loose in their mouth. It's best to put these stories to rest right away.
Celebrate Losing Their Baby Teeth as a Milestone
Losing their baby teeth means that their mouth is growing, just like they are! That can be an exciting milestone to highlight that will take away any anxiety or fear surrounding the event. One great way to truly turn losing a tooth into a celebration is by renting a movie or rewarding them with a special tooth fairy box that they can put their newly-lost tooth in.
As long as you prepare your child for what's to come, the process of losing a temporary tooth will be drastically less terrifying to them. If you need help finding the right words, don't hesitate to reach out to their children's dentist! They've explained the process so many times that they're sure to have the best method of tempering your child's fears.
About the Author
Dr. Roy Paulson has nearly 40 years of experience as a board-certified pediatric dentist. Over the decades, he has developed the best ways to put children's fears to rest about losing their baby teeth. He loves educating little ones about their smiles and helping them build healthy, lifelong habits that they can carry with them into adulthood. If your child is due for a checkup and cleaning, visit Casper Children's Dental Clinic's website or call 307-266-1997.