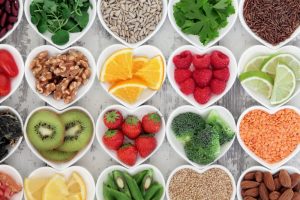 As a parent, you're undoubtedly making sure that your son or daughter is getting all the vitamins and minerals they need to stay healthy. But what about their dental health? Thankfully, many foods that can improve your little one's health can keep their teeth and gums in good shape as well! Adding a few of these smile-friendly snacks to your child's diet can go a tremendously long way in lowering their risk of cavities, gum disease, and other oral health issues. Read on as your Casper children's dentist shares 8 delicious foods that will boost your child's oral health.
1.) Raw Fruits & Vegetables
Fruits and vegetables are a staple of any healthy diet, but did you know that they can help prevent cavities too? Chewing high-fiber fruits and vegetables will gently scrub plaque and bacteria off the surfaces of your child's teeth. Eating more celery, carrots, and apples is a great way to prevent tooth decay!
2.) Sources of Vitamin C
One of the most common oral health issues in the US is gum disease, a bacterial infection in the gums that can lead to serious consequences. Not only will eating foods like cantaloupe, sweet potatoes, oranges, and other sources of vitamin C boost your child's immune system, but it will help keep their gums healthy and strong.
3.) Milk & Cheese
Low-fat or no-fat dairy products offer a wide variety of dental health benefits for your child. These foods are most well-known for their calcium, which can help rebuild your child's enamel, strengthen their teeth, and encourage the development of healthy permanent teeth.
4.) Yogurt
Yogurt is another dairy product that typically contains calcium, but that's not all. Recent studies indicate that the probiotic bacteria in yogurt can help prevent plaque buildup and the earliest stages of gum disease. Just make sure to choose yogurts that are low in fat and sugar to ensure they're a healthy choice.
5.) Nuts & Seeds
While chewing on too many hard seeds can weaken your child's teeth, certain varieties contain natural fats that shield teeth from bacteria. Vitamins found in sunflower seeds, chia seeds, walnuts, and almonds have even been shown to reduce gum inflammation.
6.) Eggs
Eggs contain numerous important nutrients, including vitamin D, which helps teeth absorb calcium. They're also brimming with protein, which helps both the teeth and the jawbone stay strong.
7.) Sugarless Gum
Sugarless gum isn't just a healthy alternative to sugary treats—the American Dental Association reports that it can help reduce your child's risk of tooth decay as well! Chewing sugarless gum 20 minutes after a meal encourages saliva production and washes away cavity-causing particles.
8.) Tap Water
While not a food, tap water is essential for your child's dental health. Most public water sources are fortified with fluoride, the same mineral found in toothpaste. What's more, drinking regularly throughout the day will keep your child hydrated and clean away any lingering sugars in their mouth.
By adding a few of these delicious foods into your child's daily diet, you can help them snack their way towards better oral health! During your child's next dental checkup, talk to your dentist about which foods your little one's smile would benefit from the most.
About the Practice
The talented dental team of Casper Children's Dental Clinic has been serving the growing smiles of Casper and the surrounding communities for over 35 years. They've helped countless children achieve and maintain optimal oral health with a variety of specialized services and a friendly, compassionate stance on dentistry. They love to educate their patients and teach them all the best ways to care for their precious pearly whites at home. If you have more questions, they can be reached via their website or at (307) 266-1997.