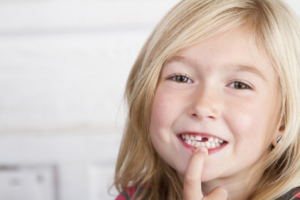 Has your child reached the age where their primary teeth are beginning to get loose and fall out to make room for their grown-up teeth? This is an exciting time and they usually fall out on their own without any problem! You shouldn't pull out a child's tooth before its ready, but when it's already on the verge of coming out, there are some ways to do it. Read on to learn a few tooth removing methods from your children's dentist in Casper.
When Can You Pull Out a Child's Loose Tooth?
If you're planning on removing your child's tooth, first make sure that the tooth is very loose or dangling from the socket. If it is only slightly loose or your child feels pain whenever it is touched, this could be a sign that the roots have not dissolved enough to safely remove it.
Ways for Your Child to Pull Their Tooth
Wiggling it Out
Your child should use their tongue or fingers to wiggle their tooth until it comes out. If they are using their hands, make sure that they washed them beforehand to reduce the number of bacteria being introduced to the mouth. Wiggling it loosens it further so that it can come out with little to no pain.
Chewing on Hard Foods
Encourage your child to eat hard, healthy foods like carrots, pears, and apples. They help to clean teeth and can even loosen the tooth further so that it can come out on its own, all while your child is having a healthy snack.
Using Ice
Nobody should chew on ice because it can be harmful for teeth. Instead, have your child use ice as a numbing agent before trying to pull out the tooth. It makes the process much easier by reducing any pain.
How Should You Pull a Child's Tooth?
To help your child pull out their tooth, wash your hands thoroughly. Using a clean tissue, move the tooth back and forth to ensure that it's loose enough and ready to come out. If it is ready, a little bit of twisting is probably necessary. Doing this should pop the tooth right out.
Apply pressure to the area with a clean gauze pad if there is any minor bleeding. Check to make sure that there are no more pieces of the baby tooth stuck in the area. You may even see the adult tooth peaking in. The next step is to have your child put it under their pillow for the tooth fairy to come! If your child is experiencing any redness or excessive pain afterwards, contact your dentist to make sure that it isn't infected.
Loosing teeth is exciting for children, but they come out on their own time. If you are unsure if a tooth is ready to come out, call your dentist. They can give you advice to help your little one.
About the Author
At Casper Children's Dental Clinic, Dr. Roy Paulson has been serving local children for over 35 years. He attended Louisiana State University where he pursued his Doctor of Dental Surgery. Dr. Paulson also served a residency in pediatric dentistry at the University of Nebraska Medical Center. He is joined by his son, Dr. Ryne S. Paulson who earned his Doctor of Dental Surgery from Creighton University. For more information or to schedule and appointment, visit their website or call (307) 266-1997.