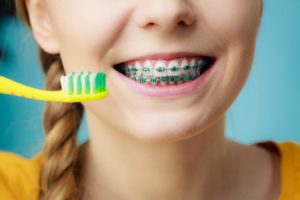 Metal braces are an excellent tool for repositioning the teeth and revealing healthier, more attractive smiles. However, many parents are concerned that if their child wears braces, tooth decay will occur as a result. Not to worry. We have put together this simple guide on braces care in Casper that will help your child to maintain a clean, cavity-free mouth throughout their orthodontic treatment.
Proper Brushing Technique
To brush effectively while wearing braces, a patient should:
Hold the toothbrush at a 45-degree angle against the gums
Be gentle, especially while cleaning the area between the wiring and the enamel
Use a soft-bristled brush
If you are a parent whose young child has braces, you may want to monitor their brushing habits until they get the hang of navigating the brush around the brackets and wires. You should also encourage them to brush shortly after every meal. Doing so will help to prevent food particles and bacteria from being caught between the braces and the teeth for extended periods of time.
Flossing with Braces
To use traditional floss with braces, it is necessary to thread the floss between the main wire and the teeth. Then, gently slide the floss along the sides of each tooth before removing it. Thread the floss between the next pair of teeth and repeat the process. You might also invest in an oral irrigator for your child, which uses a concentrated stream of water to clean the area between the teeth. Many people find this to be easier than using traditional string floss.
Dietary Guidelines
Some foods are prone to get stuck between the braces' wire and the teeth, and they can be difficult to remove with a toothbrush and floss. It is best if your child avoids eating such foods altogether. Some examples of goodies to stay away from include:
Caramel
Gummy candy
Taffy
Bagels
Hard bread rolls
Chips
Basically, a good rule of thumb is to avoid sticky, chewy, and hard foods. Not only can such foods lead to decay if they get caught in the braces, but they also carry the risk of damaging the braces themselves.
Attend Regular Checkups
Your child will have to attend regular orthodontic appointments throughout their treatment period. However, those visits are not substitutes for routine preventive care. It is important that your child continues to receive a thorough cleaning and checkup at least twice a year. The hygienist will not only clean your child's teeth, but they will also offer friendly reminders and tips to help your child maintain a healthy smile even while they are wearing braces.
You do not have to be afraid that braces will lead to cavities for your child. Following the above guidelines will play a big role in ensuring that their orthodontic treatment is a resounding success!
Meet the Practice
Drs. Roy and Ryne Paulson are proud to serve as pediatric dentists in Casper. They are known for their good-natured and cheerful chairside manners. In addition to general services for young ones, they also offer orthodontic treatment. If you have questions about braces for children, the Drs. Paulson would be happy to talk to you. Contact our office at 307-266-1997.