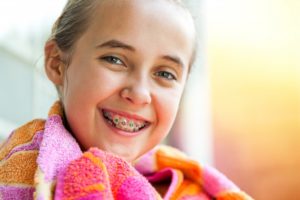 Braces are not uncommon; in fact, some statistics estimate that there's well over 4 million people who wear braces in the United States alone. If you have a child, you'll likely need to consider whether they'll require orthodontics in Casper at some point – but how will you know? When's the right time to make an appointment? Here's what you can expect regarding orthodontic treatment at various ages.
Ages 2 to 6: Interceptive Orthodontics
Signs of abnormal bite development can be seen as early as the age of 2. Sometimes this is due to bad habits such as thumb sucking and pacifier use, but it can also be a sign of an issue with the child's growth. Interceptive orthodontics can be used to help identify and treat the source of the problem.
In many cases, the problem is an irregularity in the size of one or both jaws; special appliances can be used to correct the child's dental arch size, allowing the jaws to grow properly. This can reduce the need for orthodontic treatment in the future – and in some cases braces can be avoided altogether!
An orthodontist can also advise you on methods to help your child stop sucking their thumb.
Ages 6 to 12: Early Treatment or Phase I
The American Association of Orthodontics recommends that children have an orthodontic treatment no later than the age of 7, after all their baby teeth have erupted but before permanent teeth have come in. At this age, not only will the orthodontist be able to detect problems with jaw as it's still growing, but they'll also be in a better position to easily address problems with tooth development.
Depending on what's needed, braces might be employed for a limited time on selected teeth. Headgear (such as a reverse-pull facemask), aligners and other appliances can also be used depending on the corrections needed. These early treatments can be very effective as the child's hard and soft tissues tend to be more receptive to the necessary forces.
Ages 12 to 16: Adolescent Treatment or Phase 2
Once all the teeth have come in, full orthodontic treatment will commence if the underlying issues weren't fully addressed in Phase 1. At this point, the focus is on aligning the teeth in order to maximize their function, appearance and stability in your child's final bite.
Every child is unique and there are many factors that can affect oral development; because of this, the duration of orthodontic treatment as well as the appliances used will vary from case to case. Ask your orthodontist plenty of questions and make sure you understand the answers before making any decisions. Whether it's getting braces in Casper or simply breaking a bad habit early in life, take the necessary steps in helping your child grow up with the smile they deserve!
About the Practice
At Casper Children's Dental Clinic, Drs. Roy Paulson and Ryne Paulson provide children with quality care in a uniquely fun environment. Dr. Paulson has been a practicing pediatric dentist for 35 years and is proud to be working alongside his son. They offer interceptive orthodontics as well as braces and other appliances. To schedule an appointment, visit their website or call (307) 266-1997.