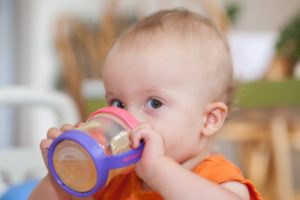 When your child transitions from a bottle to a sippy cup, it's only natural to begin expanding the types of beverages they consume. Yes, we know water is the best for them, but maybe they like fruit juice, or you want to see if they like soda? While this might be okay as a treat every now and then, sugary drinks can be problematic not just for children but adults, too! But as an adult, it's your responsibility to ensure your child's teeth are healthy, which means limiting the amount of sugar they receive. Find out what a pediatric dentist in Casper has to say about sugary drinks and what you can do to prevent cavities.
Why are Sugary Drinks Problematic?
As your child grows, your baby transitions into the toddler stage, which means you can say goodbye to the bottle and hello to the sippy cup. While these are great for helping your child make the transition, they should be used for a short period of time. Too often, parents opt for the sippy cup instead of helping their child begin to drink of a traditional cup. This is because sippy cups prevent spills and are more convenient.
Okay, you've explained the use of sippy cups, but what does it have to do with sugary drinks? We're glad you asked!
If you're giving your child sugary beverages, they're more likely to well, sip! This means it is taking them longer to consume the beverage, allowing the sugar to sit on their teeth and develop into tooth decay. Sugar is a breeding ground for bacteria. As it grows, it begins to burrow holes into the tooth, ultimately creating cavities.
During your child's first visit to the dentist, which should occur after the first tooth erupts or no later than their first birthday, your pediatric dentist will discuss proper sippy cup use.
How Can I Keep My Child from Developing Cavities?
In order to keep your child's teeth healthy, there are a few tips you should follow:
Brush their teeth twice a day for two minutes.
Use a fluoride toothpaste and only a smear (grain of rice).
Gently floss between teeth to remove any bacteria or food particles.
Serve only water in their sippy cups unless it is mealtime.
Use sippy cups as a transitional tool, not a long-term solution. Children should learn to use a regular cup in a timely manner. You can speak to your dentist and/or pediatrician about the proper time to make the change.
Remember, water is the best option for your child. Not only will it keep them hydrated, but it will also keep them from developing tooth decay at an early age. Reserve the sugary drinks for mealtime, and make sure to brush their teeth before bed. This will keep their teeth healthy and strong as they continue to develop.
About the Author
Dr. Roy Paulson is a board-certified pediatric dentist and has been practicing for more than 37 years. He graduated from Northeast Louisiana State University, earning his undergraduate degree. He then went on to receive his Doctor of Dental Surgery at Louisiana State University. Dr. Paulson and the team at Casper Children's Dental Clinic want to ensure your child's dental needs are met with the highest quality of care, which is why preventive care is encouraged starting from an early age. To learn more about how we can help the youngest member of your family, visit our website or call (307) 266-1997.