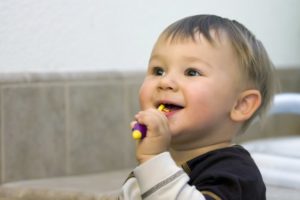 Making sure your child is healthy and happy is likely the most important priority to you as a parent. But this doesn't only revolve around keeping them active or feeding them a balanced meal. These are important steps, but poor oral health has the power to influence many aspects of their daily life.
Part of maintaining good oral health is visiting a pediatric dentist in Casper. The most common question dentists hear from parents is "when is it time to visit?" Find out by reading our latest blog post!
When Should You Bring Your Child to the Dentist?
According to the American Academy of Pediatric Dentistry as well as the American Dental Association, your child's first dental visit should occur within six months after their first baby tooth erupts or no later than their first birthday. Most children will experience their primary teeth erupting between 6 and 12 months of age. However, this can vary from person to person and all children should have their mouth checked by 12 months of age anyway, so this acts as a fair rule of thumb.
Benefits of Bringing Them In
As soon as teeth erupt, they become vulnerable to tooth decay. That's why dentists recommend that you visit their practice at such a young age. Of course, this is far from the only reason why you should scheduled a visit now. A pediatric dental visit also works to:
Catch dental issues before they cause problems later
Inform you of the best methods to cleaning your child's teeth and gums
Begin a conversation on diet, fluoride needs, oral care products and dental sealants
Establish a "dental home" that your child can feel comfortable visiting
Determine you and your child's needs
Get your questions on child oral care answered
How to Help Them Prepare
To ensure that your child's first visit is as smooth as possible, it always helps to prepare ahead of time. If possible, aim for an appointment in the morning when your child is more likely to be rested and cooperative. This will make the dental exam much easier. Prior to your visit, ensure your child that the dentist is here to help them keep their teeth healthy. The more you can reassure them that the dentist is nothing to be afraid of, the easier future visits will be. Never use dental visits as a way to instill fear or threaten them with punishment.
After all, dental visits are necessary for long-term oral and overall health. Schedule your child's next appointment with a children's dentist in Casper to put them on a path to good oral health for life!
About Casper Children's Dental
Casper Children's Dental offers a team of dental professionals who have been working in the field for over 30 years and serving three generations of Wyoming's youth. They strive to provide an extremely high standard of care while still being a fun and welcoming environment for children of all ages. The practice is always accepting new patients, so feel free to schedule your next appointment through their website.