Meet the Team
Fatima, Receptionist and front desk
Fatima helps the dentists while they perform procedures and helps maintain the office. She's been with the practice since 2013, and she graduated in 2010 from dental assistant training. For Fatima, the best thing about working in our office is the kids! She also likes that there's something new happening every day. She enjoys helping kids not be afraid of the dentist. For fun, Fatima spends time with family and friends and likes being outside in the sun.
Angie, Dental Assistant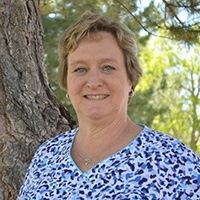 As a dental assistant, Angie has the pleasure of seeing all the new patients for their dental visits. She can introduce patients to all the fun of going to the dentist. She feels she has the "best of the best" job! She was born in Maryland, but her family moved to Casper when she was 3. She's been in the dental profession for over 25 years, and she recently celebrated her 20 year anniversary at our office. She loves helping children learn to care for their smiles and keep them healthy and strong. She's just a big kid at heart, so she's great at communicating with the children. Angie has three grown children and six grandchildren. She loves family dearly and enjoys spending time with them. Her grandchildren play sports, and she likes to watch them. She also enjoys taking pictures of everything -- it's her passion and favorite hobby. She plays on two dart teams, and she has three dogs.
Brenda, Dental Assistant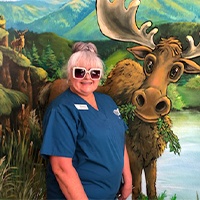 Brenda works with children on their operative needs. She also orders our supplies for us. She's been in dentistry for over 25 years. She was with our practice from 1988 to 1992, at which time she went back to school. She rejoined our practice in 1995. She missed the little ones and her boss. She received her education in dental assisting from the DePaulson School of Dental Assisting and Education. She loves helping the chidren who visit our office have healthy, happy teeth. She also enjoys the feeling of accomplishment that comes with helping a child's world better. Brenda has one daughter and four grandchildren. Her mother also lives in this community, and that's a big plus. She enjoys arts, movies, and riding her Harley!
Kayleigh, Front Desk Receptionist
In addition to helping us schedule appointment and check patients in and out, Kayleigh works with our dentists to provide our young patients with exceptional care. As a mother herself, she loves kids and and loves teaching them to care for their teeth. After hours, she enjoys spending time with her family. She also enjoys camping, boating, snowmobiling, and other outdoor activities.
Taci, Dental Hygienist
In addition to helping us create clean, healthy smiles for our patients, Taci has a Bachelor's degree in horticulture and received her Dental Hygiene Degree from LCCC. She loves making our patients laugh. Her energetic personality and her love of laughter make her a great fit for the rest of our team. Taci is married and enjoys snowmobiling, sewing, and painting. She also ties flies for her husband to use when he goes fishing.
Wanda, Dental Assistant
As a certified dental assistant, Wanda greatly enjoys doing hands-on work that betters a child's life. She attended the Mohave Community College Dental Program and has her Associate of Science degree. Originally from Kingman, AZ, she enjoys doing outside activities, sports, painting, and woodwork in her free time. She is also very involved in helping the youth and volunteering at community functions.